Certificate of Authenticity
A certificate of authenticity is a document that should accompany any genuine artwork (original or print) and that should supply relevant information about the work: the artist's name, the title of the work, a description or image of the work, the dimensions, the year that the original and print were created, the medium for the original and for the print, the artist's signature, etc.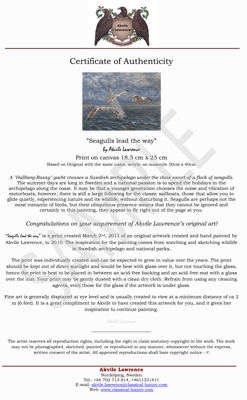 Akvile signs all of the prints sold via this website and supplies a certificate of authenticity for all of her wildlife paintings and prints. We also include information about the care of the artwork. If is important that all work be kept out of direct sunlight, since UV radiation will tend to fade colours with time. Additionally, it is best to protect prints with a glass cover (preferably UV-reducing). It is important, however, that the glass does not touch the print directly, but rather a acid-free mat is used to surround the print. Similarly, the backing of the framed unit should be acid-free to guarantee the long-life of a print.